June—American Public Gardens Association Annual Conference
For the fourth consecutive year, the Great Park Garden Coalition was in attendance at APGA, gleaning ideas from directors and designers at the top botanical gardens and arboretums across the country. Our own project as an advocacy organization for a botanical garden in Irvine got the attention of a faculty member at Cornell University whose landscape design students may be interested in contributing concept plans for a future Great Park Botanical Garden.
July—Visit to The Huntington with Irvine Mayor Khan
In July, Great Park Garden Coalition brokered an invitation for Irvine city leaders to enjoy an eye-opening, up-close and personal tour of The Huntington: Library, Art Museum,  and Botanical Gardens in San Marino, CA.
The Huntington staff (including new Director Nicole Cavender, Roger Hori, Randy Schulman, and others) hosted the field trip. In turn, Irvine Mayor Khan and her staff were able to ask questions while touring the lovely Chinese, Japanese, rose, and children's gardens plus art installations and the operational facilities behind the Japanese house. Despite it being a weekday, the garden's pre-registration tickets were sold out, and the public was streaming through the gates, eager to be swept away by its 15,000 plant varieties on 120 acres.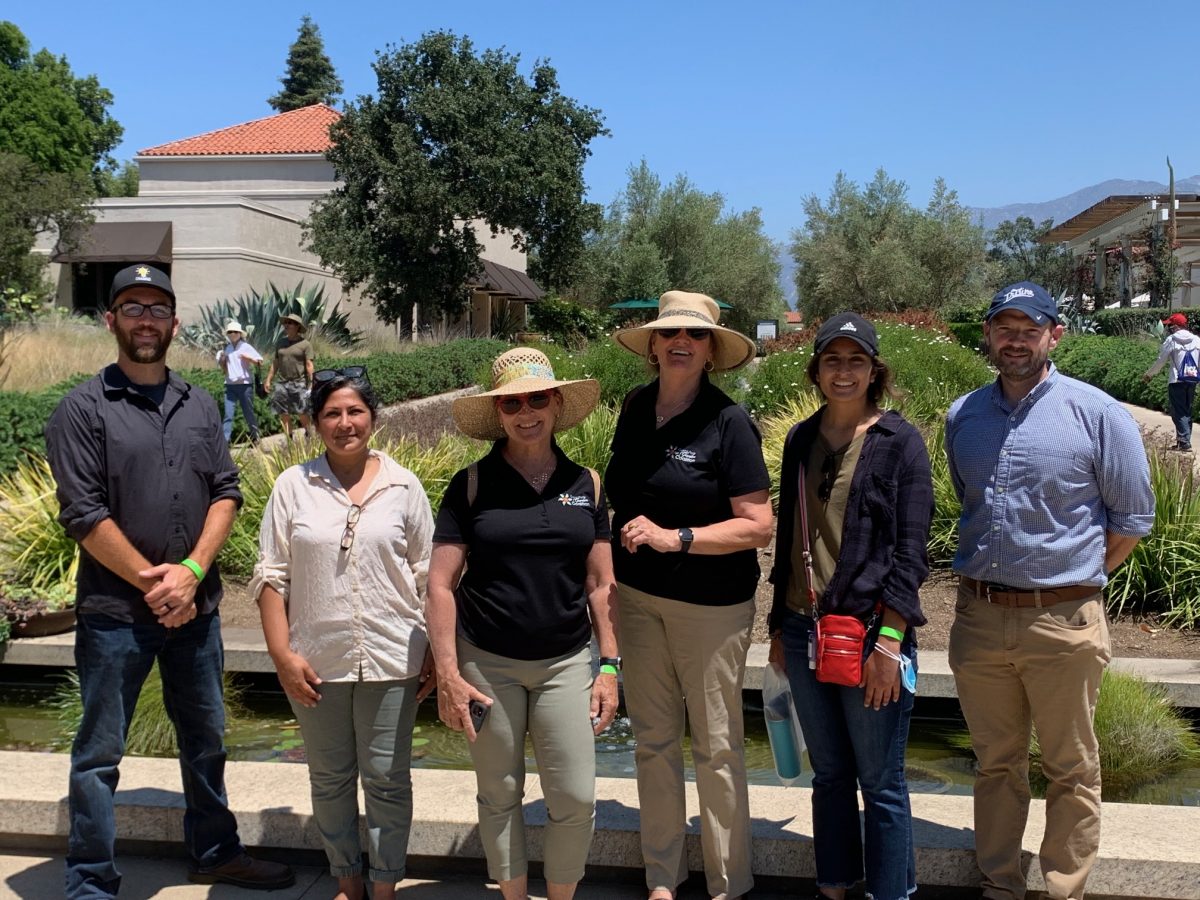 Visiting Huntington Library and Gardens on a Fact-finding Tour. Left to right:  Nathan Gipple – Great Park Farm and Food Lab/Solutions for Urban Agriculture, Farrah Khan – Irvine Mayor, Teena Spindler – GPGC President, Kay Havens –  GPGC Board member, Mariam Tariq – Executive Assistant to Mayor Khan,  Joel Belding – Deputy Director Great Park Irvine
——
Looking Ahead
Blue sky dreams? GPGC President, Teena Spindler, says, "We are as hopeful as ever" that the garden will find a permanent place on the Great Park map soon. To make that happen, civic engagement with all stakeholders is essential. We encourage our supporters to "show up" by sending letters to the members of the City Council; attend a Great Park Board meeting, City Council meeting, or both.
Tuesday, Sept. 14—Irvine City Council meeting
Tuesday, Sept. 28—Great Park Board meeting followed by Irvine City Council meeting
Saturday, October  9—Global Village at the Great Park
Great Park Garden Coalition will host a festival booth at the Global Village, Saturday, Oct. 9. Please drop by and help us beat the drum for a world class botanical garden at the Great Park in Irvine!