Great Park Garden Coalition's goal is to preserve the future 59-acre Botanical Garden included in the 2007 approved Great Park Master Plan.
The Master Plan is being re-evaluated by the City of Irvine. In October 2017 the City and FivePoint Development completed the first phase of their 'joint study' of the Cultural Terrace area of the Great Park. The Cultural Terrace is approximately 200 acres and is the last area of the Park to be planned.
The good news is that the phase 1 study includes a 'central park and gardens' section. However, it does not identify the acreage for a Botanical Garden.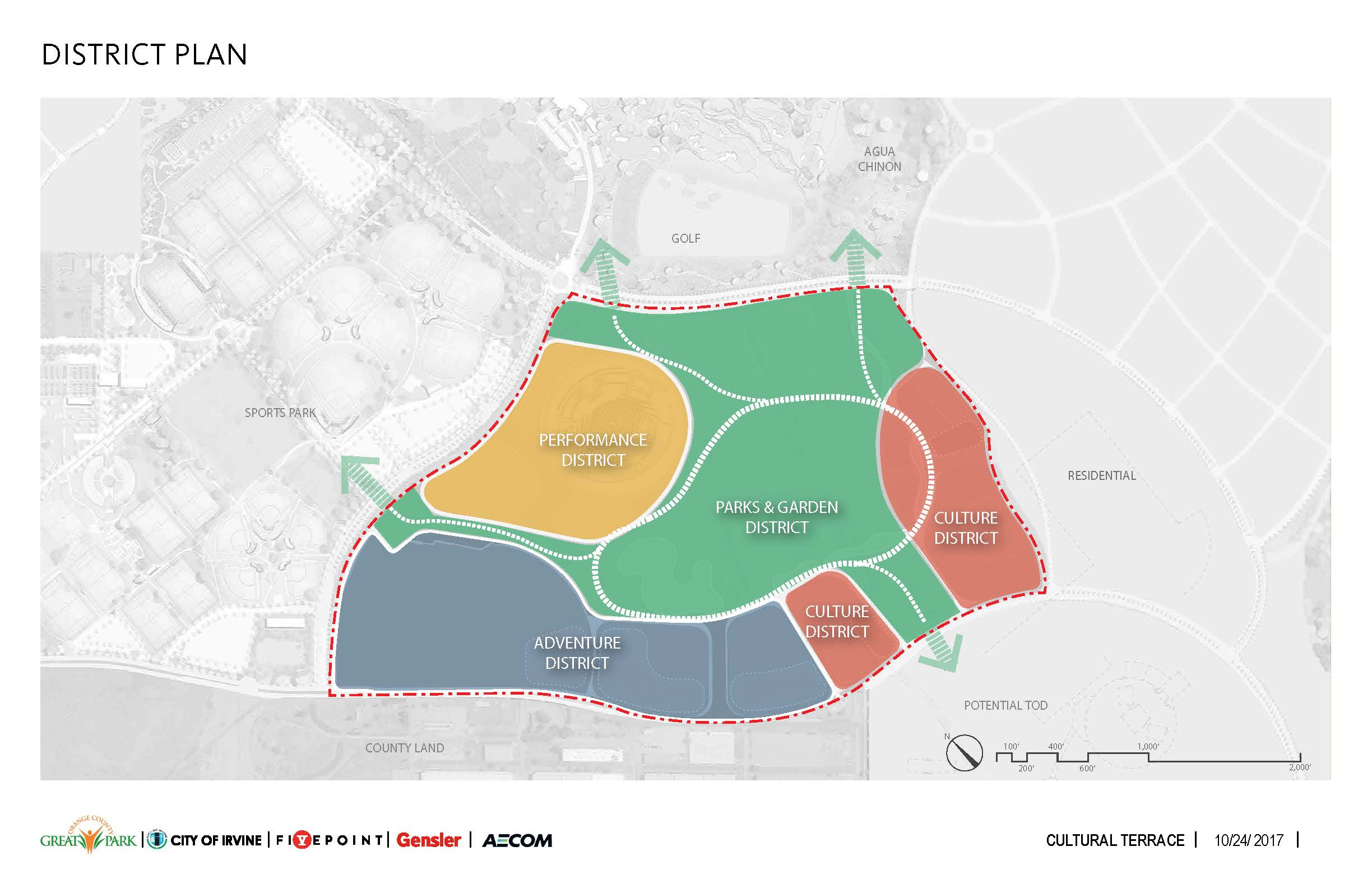 Cultural Terrace – October 2017 Phase 1 Joint Study
In 2018 the City and FivePoint began Phase 2 of the 'joint study'.  As of November 2018, the study, as far as we know is still in progress.  In addition to the ongoing Phase 2 joint study, the City approved in May of 2018 hiring HR&A Advisors for business plan development and tenant planning services for the Cultural Terrace.  It is unknown when these studies will be completed.  The meetings are not open to the public.  Presumably, the studies will result in recommendations to the City regarding the allocation of land to uses, possible cost to develop information, and structure of 'leases' with 'tenants'.
During 2017 and 2018 Great Park Board Meetings, all five city council members expressed verbal support for a botanical garden.  With upcoming elections in November 2018, two council seats, as well as the mayor's seat, will be up for election.  It will be this new city council that will presumably make the decision as to the fate of the Botanical Garden in the Cultural Terrace.
Next Steps for Great Park Garden Coalition
Meet with new city council members to bring them up to date on efforts to create the botanical garden.
Meet with city staff to obtain an update on the status of Phase 2 joint study and special consultant's recommendations.
Continue to build public support for the Garden!
How can you help?
The Irvine City Council is responsive to public opinion!
Join our email list to receive our newsletter to stay up to date on the progress.
Let your friends and family know about this amazing once in a lifetime opportunity to create a world-class public garden for generations to come.
Donate! Funds to help our outreach would be most appreciated!
Attend future Great Park Garden Coalition public information meetings and City of Irvine Council/Great Park Board Meetings (dates noted on website and newsletter)