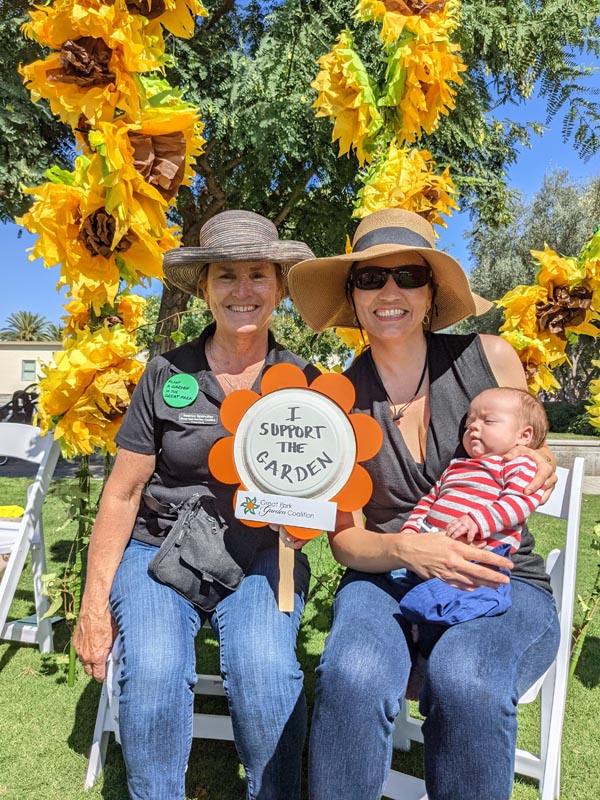 Saturday, October 9, 2021: What a glorious day for a Global Village Festival! Leaders and supporters of Great Park Garden Coalition greeted the throng of festival goers at our booth in the Community Partners section. This year's festival attracted over 23,000 visitors of all ages and interests.
We happily shared breaking news that a site of at least 75 acres is soon to be selected by the Irvine City Council for a Great Park Botanical Garden. "I want to be a part of that!" new supporters said as they signed up for our GPGC newsletter and left with bookmarks and brochures describing more ways to connect with our organization and City Council decision-makers. 
News of this long-awaited amenity was perfectly timed. Families, couples, and special guests, holding "I Support a Botanical Garden" snapped photos in front of our fabulous paper sunflower wall. Many visitors, especially younger ones, were happy to pin post-it squares on our idea board. 
Most Popular Garden Features Desired:
Rose Garden

Water fountain / waterfall

Butterfly Garden 

Sunflowers 

Fish/Koi Pond

Japanese Garden

Children's Garden

Herb Garden

Native Garden
By the end of the day, the wish list grew to include whimsical ideas (fairy gardens); educational programs (plant workshops, seed library, and community garden); thoughtful comments on diversity, inclusion and accessibility; and an enthusiastic shout out for gardens celebrating cultures from around the globe. 
It's Not Too Late to Voice your Support/Share Ideas for a Botanical Garden in the Great Park
Great Park Board Meeting
Tuesday, October 26, 2 p.m.
Irvine City Hall, Council Chamber
One Civic Center Plaza
Irvine, CA 92606-5207
City staff will present a map of possible locations for a botanical garden of 75 acres or more. Hope to see you there!
Great Park Planning and Public Input Town Hall Meeting
Thursday, October 28, 6-7:30 p.m.
Great Park – Hangar 244 (Located in the Palm Court Arts Complex adjacent to Parking Lot 2)
RSVP right away to attend this special event. Irvine residents, especially residents of the Great Park Neighborhoods, will have a voice in setting priorities for use of the last remaining acres of the Great Park.  Let's be sure supporters of a botanical garden are well-represented! 
https://www.cityofirvine.org/news-media/news-article/city-irvine-hold-great-park-development-town-hall-meeting