On May 13, 2020, the Coalition wrapped up a semester-long collaboration with Cal Poly Pomona Department of Landscape Architecture with a super Zoom presentation of the top six project designs.
Despite a pandemic that closed campus and required a quick reboot to online learning, the student teams produced 28 different master plans for the Great Park Botanical Garden! The top six plans presented on Zoom were universally lauded. In addition to Professor Andrew Wilcox and his faculty colleagues, viewers included representatives from the City of Irvine, South Coast Research and Extension Center, Coalition leaders, student participants, and other stakeholders.
The concepts, plans, presentations, and graphics were of the highest quality. As one professional architect on the review panel said of a plan, she would show it to any client.
Using a 40-acre site at the OC Great Park as a template, students produced detailed renderings of elevated walkways and viewing platforms in the trees, earthwork structures for a visitor center and café, a celebration of the original native American population and veterans of the El Toro Marine Base, edible gardens and culinary education center, parking lots that are botanical gardens, water connections to the adjacent Agua Chinon channel, and so many more clever and inspiring ideas.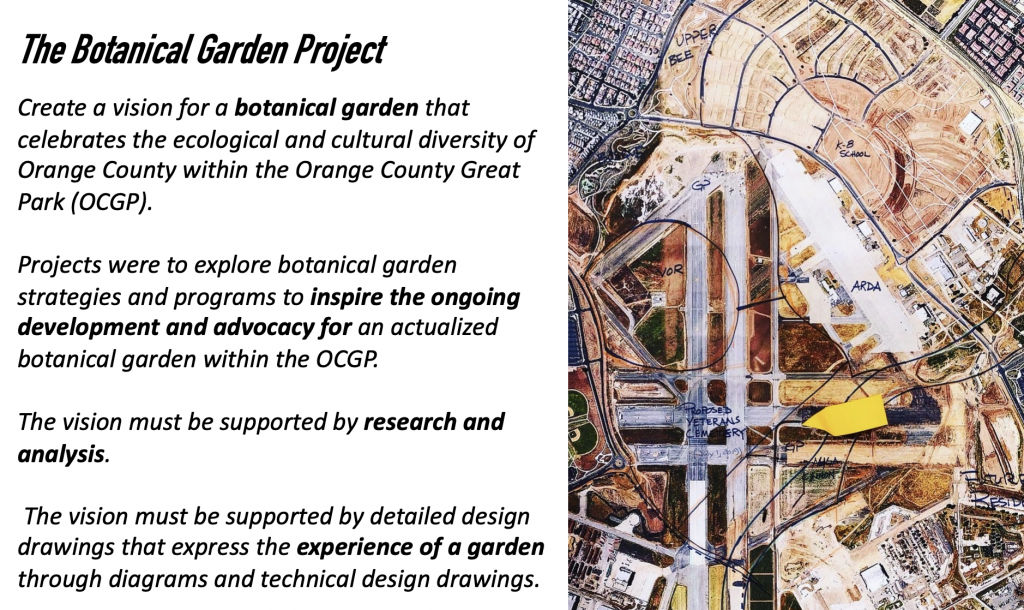 Joel Belding, Principal Planner for the City of Irvine, spoke to the Great Park Board about the Cal Poly project at their May 2020 meeting. His recap highlighted "design proposals of what the botanical garden could look like, or more importantly, what it could do for the city."
Four common elements included:
Shade and comfort
Native landscape palette for education and environmental awareness
Programmable space for educational and cultural activities
Passive landscape and trail network
Belding added, "Once we go forward with specific elements we'll have a great body of resources to draw on as we bring designs forward."